When it comes to blueberries, breakfast tends to spring to mind. Blueberry muffins, blueberry pancakes, coffee cakes are all staples of a good blueberry breakfast. Fresh blueberry waffles is another breakfast ideal for adding to the list.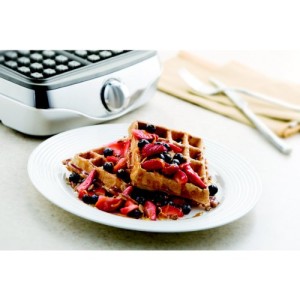 These waffles have delicious blueberries baked into them and are made with buttermilk to give them a tender and moist texture and a creamy, buttery taste. Despite the inclusion of the berries though, they are not all that sweet, which means you can heap on the powdered sugar or pour over as much maple syrup as you like.
It is best to make this recipe with fresh berries as frozen blueberries contain a lot more moisture and will change the consistency of the mixture during baking.
Be warned though, fresh berries will sometimes pop when being cooked in these waffles! A thick batter toasted in a shallow waffle iron is best in order to avoid the waffles from becoming too thin and being unable to contain the berries properly. It is also a good idea to make sure your waffle iron is properly greased so that any berries that do pop will not remain stuck to it.
These waffles are ideal for freezing and can be defrosted in the microwave, before being placed in the oven for a few minutes to make them crispy again.
Fresh blueberry waffles
225g all-purpose flour
30g corn starch
1tsp backing powder
1tsp baking soda
1/4tsp salt
3tbsp sugar
240ml buttermilk
2 large eggs
2tsp vanilla extract
6tbsp butter, melted and cooled
100g blueberries
Whisk together the flour, cornstarch, baking powder, baking soda, salt and sugar in a large bowl. In a medium bowl, whisk together the buttermilk, eggs, vanilla extract and butter until a smooth mixture. Pour this into the dry ingredients and whisk together until well combined. Mix in the blueberries. Set the batter aside for 5-10 minutes.
Pre-heat the waffle iron and spray with oil or butter.
Pour in dollops of waffle batter to suit your waffle iron.
Makes 6-8 servings, depending on the size of your waffle iron.