Smart Planet Waffle Maker Reviews
Smart Planet MWM-1 Mini Flip Belgian Waffle Maker Review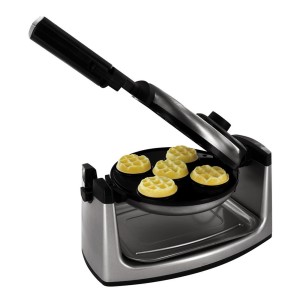 Want to feel like you are having breakfast on the streets of Belgium? The Smart Planet MWM-1 Mini Flip Belgian Waffle Maker can make individual size, delicate, mouth-watering, fluffy waffles. Most people think of a Belgian waffle as a big portion, but Belgian mini waffles are quite a treat on the streets of Belgium or in your kitchen at home. Just adding a little powdered sugar or whip cream to fill the deep squares on the waffle will make a yummy treat for the entire family.
People all over the world enjoy Belgian mini waffles for breakfast; they are great for picky or small eaters, and kids absolutely love them. If you are getting a late start to your day, these mini waffles are great to grab on the go.  Just make them a day before and freeze.  Preparation and cooking time takes just a few minutes to be ready on the table.  This is the best ranked mini waffle maker on the market.
Smart Planet MWM-1 Features
Rotates to cook every waffle evenly.
Makes 5 mini waffles.
Chemical free non-stick surface.
3 minute cooking time both sides.
Removable drip pan.
Extended, collapsible handle for easy storage.
Stylish, contemporary look.
Only 5 lbs. in weight.
Simple & Affordable.
Red light is on when mini waffle maker is on and also while cooking waffles.
Light flashes green on the handle when ready to flip and cook the other side.
What are the customers saying?
"I got this for my girlfriend for Christmas and MY GOD the waffles were fantastic. They are perfect one bite waffles and so good."   ~ Salman Azad
"Love this, and couldn't wait to use it, product arrived early and product arrived in great condition…..my family loves it when I make these for breakfast."   ~ Marco Singleton
"It was a lot lighter and flimsy than I imagined and mine came out the box looking used but because I procrastinated on the order I just cleaned it and started using it."  ~ Diane
Overall, on line reviewers were satisfied with the Smart Planet MWM-1 Mini Flip Belgian Waffle Maker.  Most of the reviewers loved the size of the waffles because they are easy to hold for little hands, and the picky eaters would not get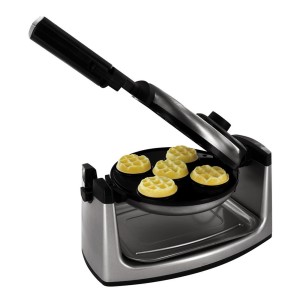 scared of the amount of food put in front of them. The majority of the customers enjoyed not only the price but also the light weight of this mini flip waffle maker. Most of the reviews were five star because of the convenience, ease of cleaning, and how quickly it makes waffles.  It takes 3 minutes flat to make delicious mini waffles.
Many customers commented that they liked the light weight and inexpensive buy, but felt that this waffle maker lacks sturdiness when compared to other Belgian waffle makers. Also, there is some discrepancy with how to know when the mini waffles are done without over-cooking them; there is no timer available with this waffle maker. Some reviewers also complained that the waffles were much smaller than expected.
Some customers said they did not think the Smart Planet MWM-1 Mini Flip Belgian Waffle Maker was made with high quality materials and may not last long term, but it's definitely worth the money.
Another favorite feature of the Smart Planet MWM-1 Mini Flip Belgian Waffle Maker is its collapsible handle for easy storage in tight or crowded storage places. The majority of the reviewers loved the bite-size mini waffles, stating that they are great for making for friends or kids or picky eaters. Mini waffles are also great to get creative and make appetizers for parties.
Smart Planet MWM-1 Pros
Easy to clean.
Easy to store.
Fun to cook with kids.
Makes perfect mini waffles.
Bite-size waffles.
Perfect for small eaters.
Perfect for picky eaters.
Deep pockets to make fluffy waffles.
Green light flashes on when to flip over the waffles.
Majority of the reviews were positive.
Great gifts.
Smart Planet MWM-1 Cons
Only makes mini waffles.
Sometimes makes one side of the waffle over down.
Cannot remove cooking surface to get thorough cleaning.
No timer, when the waffles are ready.
Made with too fragile and light weight material; lower quality.
Only good for single families.
Not high quality.
Hard to reach company if anything goes wrong with the arrival of the waffle maker, or mal-functions while using product.
Hard to clean if you do not have the right cleaning tools.
Don't expect all 5 waffles to come out perfectly.
Smart Planet MWM-1 Summary
Recommendations – Smart Planet MWM-1 Mini Flip Belgian Waffle Maker is highly recommended for its convenience and ability to satisfy the little eaters in your family.  If you have a big family and they're hungry at breakfast time, use a squeeze bottle, load it up with Belgian waffle batter and you will have the whole family fed in no time.
Now you and your family can have something to look forward to every Sunday morning – making fluffy Belgian mini waffles!  The mini flip Belgian waffle maker is not only great to make yummy waffles but also great to make appetizers, hors d'oeuvres or special novelty breakfasts.  And that's why i score the Smart Planet MWM-1 4 out of 5.