Oster Waffle Maker Reviews
Oster CKSTWF1502-ECO Belgian Waffle Maker Review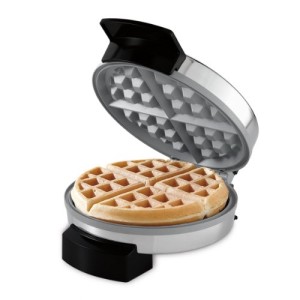 The Oster CKSTWF1502-ECO DuraCeramic Belgian Waffle Maker is a simple, inexpensive waffle maker. It features an innovative and unique non-stick coating dubbed DuraCeramic. This coating is Teflon-free, with all the health advantages that entails, and promises to not scrape or flake off.
The waffle maker also purports to cook up to 20% faster than irons and electric waffle makers made from traditional materials. The DuraCeramic is more effective than Teflon, as well, and typically does not need to be oiled or sprayed to keep the waffle from tearing apart when it is removed from the maker.
This waffle maker comes at an excellent price point, and is meant for light home use.
Oster CKSTWF1502-ECO Waffle Maker Features
Unique DuraCeramic coating offers the benefits of Teflon without any health risk
Easy, simple design
Fast clean-up with a damp paper towel
Adjustable temperature for desired crispiness
Cooks up to 20% faster than other waffle makers
The Good
The CKSTWF1502-ECO is sold primarily on the promise of its DuraCeramic coating. Teflon is believed by many to be a carcinogen. The science is conflicted on that, but the appeal of a non-stick coating that will not leave bits of itself in your breakfast is clear. In that regard, DuraCeramic lives up to Oster's claims.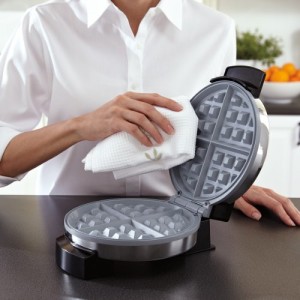 The waffle maker cooks waffles that slide right off the grid without much trouble, and using cooking spray or butter is usually not even necessary. The plate is scratch resistant and durable, although it is always advisable to use only plastic or wooden scrapers on waffle makers and other non-stick cooking surfaces.
Clean-up is simple with a damp paper towel or cloth. The CKSTWF1502-ECO also includes a good number of recipes in its instruction manual, ranging from typical "Light and Crispy" waffles, to more elaborate treats with fruit mixed into the batter. Oster is known for the good quality recipes it provides with its cooking gadgets, and the CKSTWF1502-ECO is no exception.
The waffles this maker produces are rather small and thin by typical Belgian waffle standards, and are more like regular American style waffles. They are tasty with a good texture, though, crispy on the outside and fluffy on the inside.
The Bad
Unfortunately, the claims made by Oster do not quite bear out over regular use. The waffle maker cooks quite a bit slower than other comparable units, with waffles taking well over ten minutes to reach a good level of doneness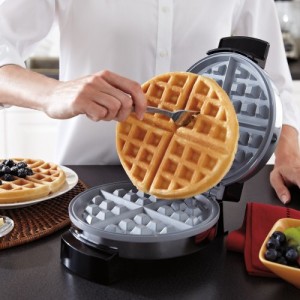 even at the highest temperature setting. The outside of the unit is also a bit flimsy, and the handle can easily snap off if not handled carefully.
The cooking plates are also not removable, as is typical for this type of waffle maker, which can make a deep cleaning difficult in the event a wipe-down with paper towels fails to remove all the leftover batter. Finally, the heating element is fully exposed when the waffle maker is closed.
Groggy morning chefs should be very careful not to touch the hot parts of the waffle maker while it is running.
The Oster CKSTWF1502-ECO DuraCeramic Belgian Waffle Maker may not get hot enough to cook a waffle in five minutes, but it is more than hot enough to burn a finger placed in the wrong spot.