Hamilton Beach Waffle Maker Reviews
Hamilton Beach 26009 Belgian Style Waffle Baker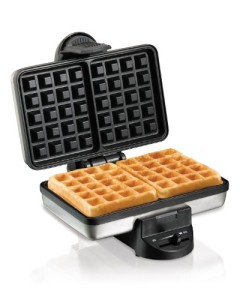 The Hamilton Beach 26009 Belgian Style Waffle Baker is a simple, no-frills waffle maker. It makes two waffles at a time, each about 3.5" x 4.5". The waffles it produces are 4×5, meaning they have four rows of five holes. Interestingly, this disqualifies it as a "true" Belgian waffle, which may be either 3×5 or 4×6. However, waffle makers that produce waffles in that shape are very rare in the United States. The 26009 has a very easy, plug-and-go design.
Overall Product Rating:
The only control on the unit is a dial to adjust the heat, and the inside plates are non-stick to allow for easy cleaning. Waffles are ready in about five minutes depending on the heat and amount of batter, and the maker is very compact to allow for storage in a cupboard or cabinet.
Hamilton Beach 26009 Features
Simple, easy to use design
Teflon coated grid allows for fast cleanup
Low cost
Browning dial for lighter or darker cooking
Easily fits into a cupboard or cabinet
Although inexpensive and without many bells and whistles, the Hamilton Beach 26009 Belgian Style Waffle Baker works as intended. Cleaning the plates is indeed very easy, as long as one is careful not to overfill the plates with batter while cooking.
Hamilton Beach does recommend spraying a light coating of cooking oil for the first two or three uses, and the oil can sometimes drip down the back of the unit.
The browning control works well, and the waffles are fluffy and crispy. Of course, the ingredients used are as critical to quality food as the cooking implements, but this unit serves its purpose. The waffle maker does turn on a green light to notify you when the waffles are ready, which can be a very convenient feature on a busy morning.
Steam also stops escaping the vents at this point, so it can be seen from across the room. After breakfast and cleaning, the unit is small enough to fit just about anywhere, and stands upright to save more space.
This piece of kitchen equipment comes with a great price tag, but it does need to be treated with some care. It is not uncommon for pieces to break off of the waffle maker if it is slammed shut or roughly moved around. In addition, the internal plates are not removable.
If too much batter goes onto them and overflows, it is very difficult to clean out the waffle maker. Finally, metal tools should not be used to scrape the waffles out of the machine. The nonstick coating on the plates scratches easily, so only plastic spatulas or scrapers should be used.
Overall, the Hamilton Beach 26009 is a fine waffle maker. It makes waffles, and as long as it is used properly it will keep reliably making them. As with any kitchen implement, especially electrical ones, it needs to be treated with respect and carefully used and maintained. This is not a waffle maker for opening your own breakfast restaurant. For the price, it is an excellent choice for home use.