Cuisinart Waffle Maker Reviews
Cuisinart WAF100 Belgian 4 Waffle Maker Reviews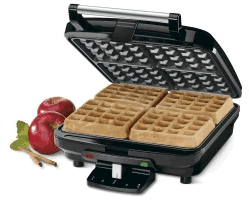 Real Belgian waffles aren't just for Sunday breakfast anymore, with the Cuisinart WAF100 4-Slice Belgian Waffle Maker, you can enjoy your favorite waffles any day of the week.  Crisp on the outside, but light and fluffy on the inside, Belgian waffles are perfect when topped with fresh berries and whipped cream.  Or even as a savoury treat with maybe cheese and onion or bacon, simply a delicious quick snack.
Overall Product Rating:
How The Cuisinart WAF100 4-Slice Belgian Waffle Maker Works
The Cuisinart WAF100 4-Slice Belgian Waffle Maker can transform even instant pancake batter into luscious Belgian waffles.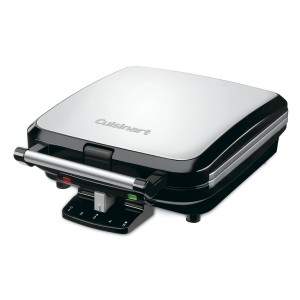 You simply pour in the batter, set the browning control to the desired setting, and close the lid.
When your Belgian waffles are ready, you will hear an audible alarm and the green indicator light will turn on.
The Cuisinart WAF100 makes four Belgian waffles at a time.  Each waffle will be 1 inch deep and indented to easily separate into four easy to serve waffles.
Top with butter and syrup or berries and whipped cream, and you have a delicious gourmet breakfast in minutes.
We found a great price for the Cuisinart WAF100 Belgian Waffle Maker on Amazon.com and this includes free delivery which makes a big difference with the final price.
Cuisinart WAF100 Features:
Browning control with 5 doneness settings
Non-stick cooking surface for perfect waffles and easy clean up
Stainless steel locking cover and chrome plated handles make it a welcome addition to any countertop
Red and green indicator lights alert you when the waffle maker is ready to cook, and when the waffles are ready to serve
Stands up on its side for storage
Includes an instruction manual and 17 waffle recipes.
Limited three year warranty
What Customers Are Saying
"No more frozen Eggo Waffles for me as I now have fresh homemade waffles right at my fingers anytime I feel like it. And the money I am saving because Eggo Waffles can get pretty expensive!" – Josette L. Romero

"This is the only good waffle Iron I have ever owned." – Mallory Kazan
Most people who have reviewed the Cuisinart WAF100 4-Slice Belgian Waffle Maker are very happy with its performance.  There are some negative reviews, most of which complain about uneven cooking.  Apparently, some units have a problem where the top part of the waffle iron does not get as hot as the bottom, leaving the top part looking uncooked.  Some also complained that the bottom of the waffles had a burnt circle in the middle while the top was uncooked.  These complaints were alarmingly common, even among some reviewers who gave it a fairly positive rating.
Pros:
Easy to follow instruction manual included 17 unique waffle recipes
5 indicator lights and sounds tell you when the iron is hot and when the waffles are ready
Easy to clean non-stick surface
Convenient cord storage
Very reasonably priced
Cons:
A number of complaints that waffles do not cook evenly or consistently
Sides and top become very hot to the touch while baking
On Line Customer Reviews
A large number of customers love this product, with over half of all reviewers giving it the highest possible rating.  Those who praised the Cuisinart WAF100 4-Slice Belgian Waffle Maker did not report any of the problems cited in the negative reviews.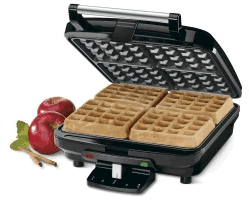 One commenter suggested that there might have been a problem with the recipes used by people who posted issues with the Cuisinart WAF100.  Another positive commenter noted that the waffle maker needs to be properly preheated before use, which also might have contributed to some of the issues mentioned.
The positive reviews all reports that this waffle maker works quite well.  When sprayed with oil, the waffles never stick to the pans.  The waffle maker cooks evenly, and the waffles are crispy on the outside but fluffy like cake on the inside.  Positive commenter's also mentioned that pay attention to the indicator lights or the waffles will burn.
Reviewers Approve Of The  Cuisinart WAF100 4-Slice Belgian Waffle Maker
According to the numerous positive reviews and online ratings, the Cuisinart WAF100 4-Slice Belgian Waffle Maker is well recommended by current owners.  Follow the recipes and instructions carefully, and you should get perfect Belgian waffles every time.  There are some people who disagree, stating that this waffle maker does not work well.  However, the high number of positive reviews makes it apparent that, when used properly, this waffle iron is brilliant.
There is nothing like waking up to the sweet smell of fresh baked Belgian waffles.  Now, you can treat your family to this with the Cuisinart WAF100 4-Slice Belgian Waffle Maker.  It is very affordable when compared to comparable waffle makers, and performs wonderfully.  Crispy on the outside, light and fluffy on the inside, the 1 inch think waffles you will be treated to in the morning will get your day started right.  And when you are done, this waffle maker is remarkably easy to clean.  If you enjoy beginning your day with a fresh made Belgian Waffle but do not want to spend hundreds of dollars on an expensive machine, then the Cuisinart WAF100 4-Slice Belgian Waffle Maker is the perfect choice.