Chef's Choice Waffle Makers
Chef's Choice 830B WafflePro Waffle Maker Reviews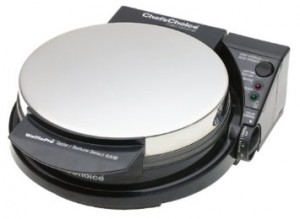 If you're in the need for speedy waffles then the Chef's Choice 830B Waffle Maker will be right up your street.  With its rapid and handy 90-second cooking time your fully in control of the color, texture and even the flavor of each individual waffle that you bake on this machine.  The temperature adjustment function makes it easy to understand and select what's right for you. This also has a crispiness selector so if you like your waffles with a crispy edge or prefer them brown on the outside and soft and chewy in the middle then you decide with this machine.  It's also a well-built and compact waffle machine that will be ideal for storing in smaller kitchens or in a cupboard when not in use.  It's also very easy to keep clean and with a built in drip tray for excess mixture it should be easy keeping this product looking like new.
Overall Product Rating:
Chef's Choice 830B Waffle Maker Product Description
Belgian waffle maker cooks in less than 90 seconds
Quad Baking System selects fast or deep bake, texture, and color
Floating hinge maintains thickness; beeps when done
Overflow channel wipes clean; stores upright
Measures 8-1/2 by 9-1/2 by 3 inches; 1-year warranty
Chef's Choice 830B Waffle Maker Review
This waffle maker is ideal for large families that need waffles fast, as it only takes approximately 90 seconds to cook a waffle on this machine.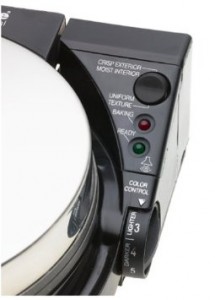 The instructions tell you to brush the plates with oil before using and I would recommend that you do this every time as it avoids batter sticking to the plates, but please don't use to much as the plates are non stick remember and don't need excess oil all the time. This also makes it super easy to clean up afterwards to and a warm damp cloth should keep this machine looking fresh for years. The alarm will sound when your waffles are ready so no need to keep checking on them with this model.   The downside to this model is because you have the choice of cooking style it may take you a few goes before you get the right settings on the dial.  And if you like your waffles thick then this isn't the right product for you as this will only make thin waffles as the plates are very close together.  If you are after thick waffles then take a look at my review of the KitchenAid Pro Line Waffle Iron instead.  This is a very reasonably priced product though and should have long durability, just because its cheaper than some of the more elite models don't think that your not getting a great product here, because you are.  And one last thing that I liked about this product was the ability to store the cable at the bottom of the iron in a ready made groove.  This makes it great for storage as I hate having cables everywhere and it also allows you to stand the product vertically, which also takes up less space.  If you are looking to read more reviews on this product then what you will need to do is simply click this link to read more negative reviews.
Chef's Choice 830B Waffle Maker Review Summary
If its speedy waffles that you need for a busy or hungry family or you simply don't have the time to wait then this Chef's Choice waffle maker is the right one for you.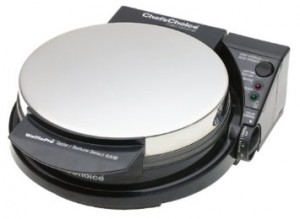 And for overall cooking versatility the Chef's Choice 830B is also a winner if you like a crunchier waffle or even a waffle that's toasted on the outside but moist on the inside, then this can do it all.
Overall Product Rating:
The only real problem with this waffle iron is going to be your waist size as you will want to be using this product over and over again. This waffle iron has everything you could want for in a Belgian Waffle Maker, as you can select the texture you want from crisp to moist and with the ability to bake waffles in 90-seconds you really cant fail with this product.  That's why I have scored this Chef's Choice 830B Waffle Maker a great 4 ½ out of 5.